Back to the previous page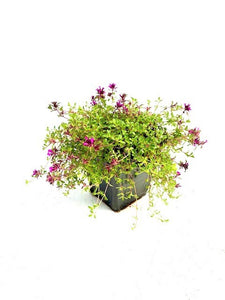 Thyme is a wonderful herb with a pleasant, pungent, clover flavor. It smells like summer to us! There are both fragrant ornamental types as well as culinary thyme varieties which add a savory note to summer soups, grilled meats, and vegetables. Here's how to plant and grow thyme.
A low-growing hardy perennial, thyme is a fragrant herb with small, fragrant leaves and thin, woody stems. The culinary varieties are evergreen.
Thyme comes in over fifty varieties with different fragrances and flavors. French or English thyme are used most often in cooking.
Originally from the Mediterranean area, this herb is drought-friendly so it doesn't have high watering needs. It is also pollinator-friendly! Let some thyme plants flower, since the herb attracts the bees.