Back to the previous page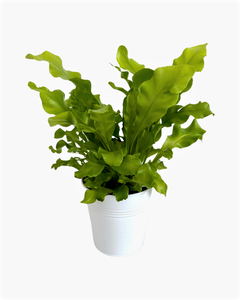 Bird's nest ferns grow well in filtered sunlight to a moderate amount of shade. Don't expose them to direct sunlight other than the very early morning sun. Harsh direct sunlight can burn the leaves.
The ferns prefer a consistent amount of soil moisture, but they don't do well sitting in soggy soil . Water whenever the top inch of soil is dry. Avoid watering directly into the center of the plant, as this can encourage mold growth and rot in the dense nest. Aim water at the soil to avoid wetting the fern's fronds.
Indoors, be sure to protect your plant from cool drafts, such as air blowing from an air-conditioning vent.