Back to the previous page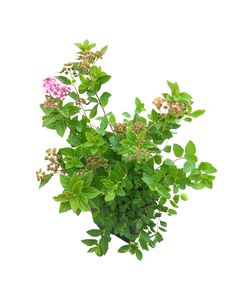 Soft pink flower clusters arrive in late spring and last through summer. Flowers will rebloom with only minimal maintenance. The light green foliage is lush, adding depth and texture. The Little Princess Spirea is around 3 feet tall and 4 feet wide at maturity so it substantial enough to be a stunning focal or specimen plant, but low enough for a striking border.
It is cold hardy as well as drought and even heat tolerant once established. This deciduous shrub is pest, disease, and deer resistant. Maintenance requirements are minimal. Dead head or shear flowers for continuous and reblooming potential.
Prefers full sun/partial shade