Back to the previous page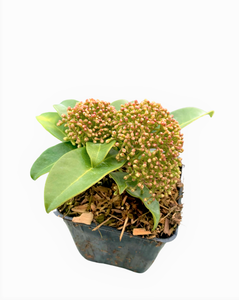 Skimmia japonica, commonly known as the Japanese Skimmia, is an evergreen flowering shrub that is native to parts of South East Asia. It has leathery green leaves, and produces clusters of fragrant flowers which are either white or cream in colour. Plants are either male or female (designated by their cultivar type) and female plants produce clusters of berries if the flowers have been pollinated. Berries can be either shades of red, pink or white. 'Fragrans' (or 'Fragrant Cloud' as it is sometimes sold as) is a male plant so it does not produce any berries. It has fragrant white flowers.
It is recommended that one male plant should be planted for every six female shrubs to obtain good fruit production. The leaves have a spicy scent when crushed. The male flowers tend to be more fragrant than the female flowers. The attractive red berries are poisonous and should not be ingested. This is a low-maintenance shrub and is tolerant of pollution.
Prefers full shade/ partial shade

Since 'Fragrant Cloud' is a male plant it does not produce berries.
Highly toxic to pets and people. Can cause death if consumed