Back to the previous page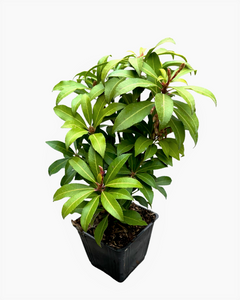 The Pieris Mountain Fire is a fabulous and unique evergreen shrub that adds bold color to your landscape with only minimal maintenance. Evergreen, shade, and drought-tolerant, and low maintenance, this hardy shrub is perfect for foundation and mass plantings, but even stands alone as a focal with its exciting red and green foliage and sprays of prolific white blooms. The natural shape of this dwarf Pieris Japonica is mounded.
The Mountain Fire Pieris is a slow grower that reaches about 4 feet tall and 3-4 feet wide over the first 10 years. It will continue to grow but rarely reaches over 8 feet tall and 6 feet wide at full maturity.
Prefers partial shade/sun
Toxic to humans and pets