Back to the previous page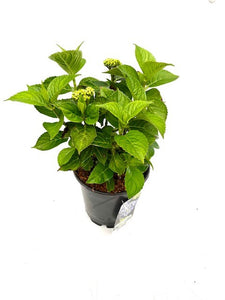 Varying from pinks to blues, this mophead has an extended shelf life and very good branching on strong stems with a mounding habit. Great to use in pots and containers to make great gifts. Re-blooms after pruning and frost.
These compact deciduous shrubs are heat and humidity tolerant in growing zones 6 through 9, handling some sun, but preferring part shade and afternoon shade best. Maturing into a tall oval form 4-5 feet high and 3-5 feet wide, these can be pruned smaller to accommodate any sized yard, hedge or planter!
HI™ River can change color in alkaline soil, turning more purple or pink, so be sure to keep the alkalinity in check for the clearest blue blossoms! Add acid-loving plant fertilizer, peat moss or aluminum sulfate to your soil to lower the pH.
Acid soils (with a pH below 7) produce purple-to-blue blooms, with the brightest blue blooms resulting from the most-acidic soils. To coax your hydrangeas into producing blue blooms, you can amend your soil with sulfur, or mulch your plants with a pine and/or cedar needle mulch.
Alkaline soils (with a pH above 7) produce pink blooms. The more alakaline (or sweet) your soil is, the deeper pink your blooms will be. This can be achieved by adding lime around your planting area. It is, however, more difficult to turn hydrangea blooms pink because as a general rule, most plants struggle to be healthy in soils with a pH above 7.
Toxic to pets