Back to the previous page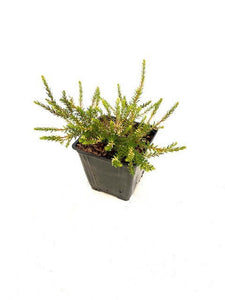 Siberschmelze is a low maintenance perennial shrub that is evergreen in nature. Evergreen, well, until winter through spring when bright pink blooms populate the stems. This perennial changes with the seasons, and can provide color during long winter months. It is pretty hardy for a heather, and can survive with blooms when many flowers cannot. 
The Siberschmelze is hardy in zones six through eight. This perennial typically grows densely outward. It is low maintenance in nature, and spreads easily. Not only is this perennial deer resistant, but it's also a friend to the bees. Beautiful at glance, but also very useful as a ground cover, this shrub is valuable in more ways than one. It can be a lovely addition to a border, or along a sloping area to prevent erosion.
Prefers full sun