Back to the previous page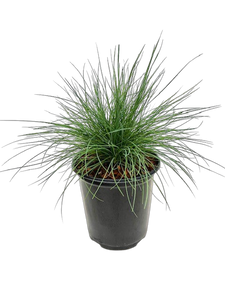 Blue fescue plants are evergreen, but they do lose some of the older blades and grow new fresh deep blue leaves in spring. The older leaves adhere to the plant and spoil the bright coloration. However, you can simply comb them out with your fingers.
The grass forms low tight mounds and produces tall flower tipped stems in May to June.
Older blue fescue plants tend to die out a bit in the center. One of the useful blue fescue growing tips is division. The dying plant simply needs to be dug up and cut in half. The center part will pull out by hand, leaving you with two plants full of healthy foliage. Division can be done every three to five years or as the plant begins to slow blade production in the center.
Prefers full sun