Back to the previous page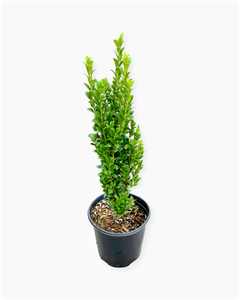 In spring through summer, discrete white flowers bloom followed by an abundance of small, purple-blue berries in fall lasting throughout winter.
With a compact, pyramidal form, these vigorous shrubs typically reach 6 to 8 feet in height and 5 to 6 feet wide.
Glossy, ovate, rich green leaves densely cover the upright branches creating a lush, tidy display perfect for hedging or stand-alone plants.
Prefers full sun/partial shade
Highly toxic to pets